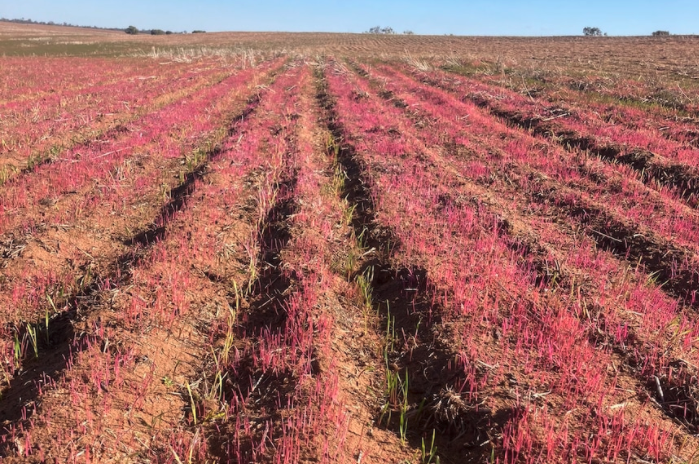 Prospective Overwatch Class Action
FMC accused of bamboozling growers over crop damage.
The Senior Partner of the law firm spearheading a Class Action against global herbicide manufacturer, FMC Australasia, has accused FMC of bamboozling farmers with misleading statistics and the crop damage suffered from the use of FMC's herbicide, "Overwatch".
According to Stewart Levitt of Levitt Robinson, "Telling farmers that only 1% of land treated with FMC's herbicide, Overwatch, has been affected, is meaningless because Overwatch did not adversely affect all crops: Barley crops were the most often damaged where farmers were not given the right instructions by FMC. Wheat (and also canola) crops have been affected but with lesser frequency". According to Levitt, "The only meaningful statistics relate to the percentage of cultivated land on which vulnerable grain products, such as barley, were sown and where Overwatch was applied".
The issue according to Mr Levitt, is also much more serious than "transient bleaching". Mr Levitt said: "The damage caused by Overwatch in many cases is permanent. If it hasn't killed the crop, it will seriously affect yields and also quality".
FMC has also been criticised for issuing an open letter to affected farms on 8th September, 2021, without identifying its author or even being signed.
Levitt Robinson, via Class PR, has registered scores of affected farmers who have suffered extensive crop damage when using Overwatch, to eradicate rye grass and broadleaf weeds.
According to extensive reports from affected farmers, Overwatch has been incredibly effective against weeds but it has also caused very damaging side effects to barley and to a lesser extent, other grains.
All preliminary inquiries with prospective plaintiffs are being handled by Class PR.
For further information on the prospective class action, call Brett Imlay, Special Counsel, on 0408 831 900, or Stewart Levitt on 0407 323 737, or email slevitt@levittrobinson.com.
Class PR
Level 3, 162 Goulburn Street
Sydney East 2010
02 8267 9499
See below:
Letter from FMC Australasia Pty Limited dated 8th September, 2021, and Levitt Robinson's reply of 17th September, 2021.
With compliments
Dana Levitt
Class Public Relations
Letter from FMC Australasia Pty Limited
08th September 2021
We value our ongoing partnership and communication with you and so wanted to ensure you received the facts on a potential issue.
You may have received an email from Levitt Robinson, or someone associated with this organisation, in which they suggest that you should talk with them about a possible class action against FMC.
This law firm has called on growers who are concerned about lingering crop effects following the use of Overwatch® Herbicide in barley to work with the firm.
No legal action has been filed.
What is the issue?
FMC is currently investigating reports relating to enhanced bleaching in crops where Overwatch® Herbicide has been used. The reports we have heard are cases of transient bleaching that farmers are either unfamiliar with, or deem to be excessive from the use of a herbicide, and generally where there were adverse weather conditions. These reports are mainly from farmers, resellers, or agronomists, or from commentary on social media.
FMC is investigating these reports on a case-by-case basis, as much as COVID-19 travel guidelines allow.
The reports being investigated are currently estimated at one percent or less of the total crop area treated with Overwatch® Herbicide in Australia this year. Put in perspective, that total treated crop area is estimated at more than1million hectares.
For more information please see the FAQs on our website:
http://www.fmccrop.com.au/en/products/herbicides/overwatch_herbicide.htm
Facts that Levitt Robinson are not telling people in their communication
So far, the law firm has not been successful in getting people to be interested in a litigation.
That is probably because of a number of reasons:
1. Where Overwatch has been used according to label directions, reports received by FMC to date are that only 1 % of all hectares treated with Overwatch are experiencing issues.
2. FMC understand that a lot of the people who experienced issues early in the season are now seeing substantial recovery of crops – which is what FMC always expected would occur.
3. No-one has actually suffered any measurable yield penalty – so they do not know if they have a case.
4. If there has been legitimate on label use of FMC product and there has been a yield penalty at harvest, FMC will address that with the grower concerned.
5. FMC, agronomists and growers will not know that until December or January. Until then FMC will continue to monitor farms and work with growers.
6. Growers generally understand what a class action firm does and most do not see the economic benefit to them in a class action. FMC notes that:
a) In general, some class action firms sometimes take a significant portion of the settlement for themselves and their funders. There is no guarantee that this would not occur if there was a class action against FMC.
b) A legal case usually takes 3 to 4 years to resolve. Growers would rather not take that risk and instead look to resolve matters directly with FMC, where they have a concern which they can substantiate.
c) Growers who have legitimate issues will be able to make a decision for themselves whether they want to engage directly with FMC or through a class action law firm – with the associated costs and delays that could result from a class action process.
7. Growers should be aware that "no win, no fee" proposals by a law firm do not mean that they are not at risk in a class action. Off label use, poor application techniques and other non-product related matters may account for many of the issues FMC have seen. In those circumstances, a case would fail, and the grower would be at risk of paying the legal costs of FMC if they became involved in the failed case.
FMC and stewardship – our ongoing commitment
In its focus on contributing to competitiveness in Australian agriculture by investing in innovative crop protection products, FMC continues to work with growers, agronomists and resellers to ensure safe and responsible use of its products.
Integral to this is our stewardship program which is dynamic, targeted, and engages resellers and agronomists, who in turn communicate to their grower clients. With its team on the ground across Australia, every day FMC is working collaboratively along the value chain to improve stewardship and continue to build trusted relationships.
Bringing a new product to market means years of development, thorough testing, and official approval from the  relevant agencies. This is FMC's commitment to, and partnership with Australian grain growers.
With more than 1 million hectares treated with Overwatch® Herbicide this year, FMC has worked hard to gather feedback and assess its performance. Any challenges experienced, however few, are noted and the FMC regional team is literally walking the paddock with the growers and in some cases also the agronomists to ensure we continue to build strong relationships and work together to remain competitive.
FMC will continue to monitor the situation and work with concerned growers and industry partners to support Overwatch® Herbicide users as required for each case.
Please contact us if you would like more information on: +61 298 870 900